The Nuremberg Trial was held in 1945-1946 where German military leaders, political officials, industrialist, and financiers for crimes committed during World War II.
The Nuremberg Code was created in 1947 in Nuremberg, Germany, following the trial of a group of Nazi doctors accused of conducting inhumane and often deadly experiments on prisoners of concentration camps without their consent.
The Nuremberg Code was developed in response to the horrors of this experimentation, with the aim of protecting human subjects in medical research. The Code (and particularly its emphasis on informed consent) has had a profound impact on international human rights law and medical ethics.
The Nuremberg Code consists of 10 principles, the first of which being that the voluntary consent of the human subject is absolutely essential in any experiment on humans.
Other principles include that the experiment should be for the good of society, that all unnecessary physical and mental suffering or injury should be avoided and no experiment should be conducted if there is good reason to believe it may result in death or a disabling injury.
They also say that the human subject should be free to exit the experiment if they are suffering, and that the scientist in charge must be prepared to end the experiment if they have good reason to believe it may cause injury, disability or death to the subject if it continues.

After almost 140 days of proceedings which included the testimony of 85 witnesses and the submission of almost 1,500 documents, the American judges pronounced their verdict on August 20, 1947. As a result of Nuremberg trials 12 defendants were sentenced to death, 128 were sent to prison, and 35 were acquitted.
World governments and medical institutions are In Violation Of all 10 Nuremberg Codes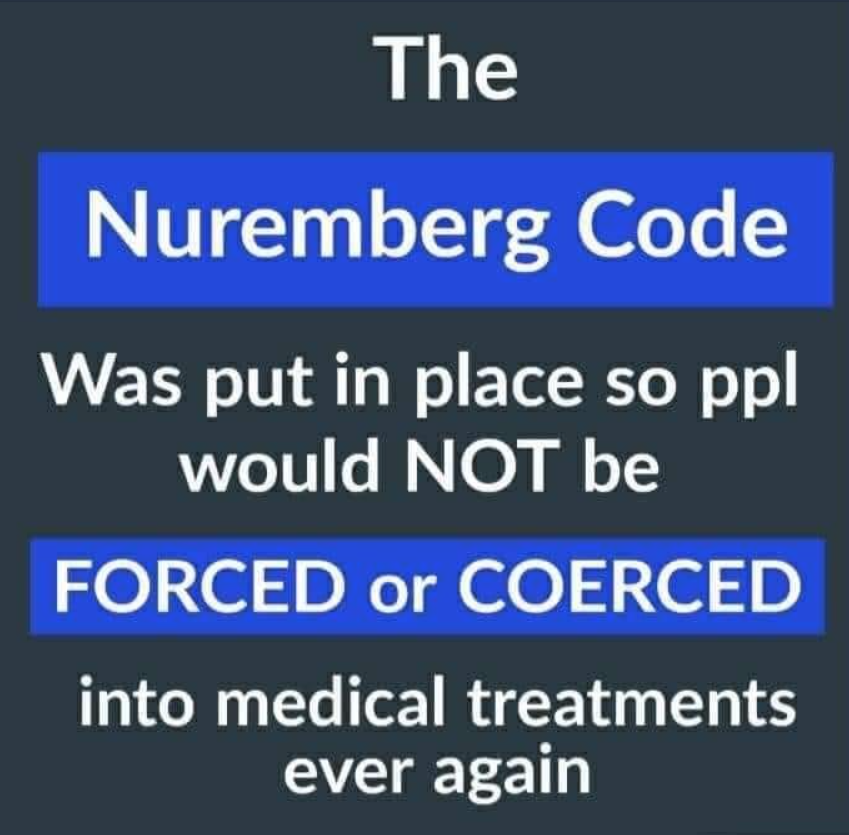 At this time in the human experience, every nation is experiencing full blown medical and governmental tyranny. Due to the orchestrated mainstream media Covid-19 propaganda, the blatant violation of human rights, removal of individual freedoms, bribing, and coercion by world governments and medical institutions, millions of people are rising up in protest all around the world.
With all major countries now pushing for vaccine passports, we must all stand for our freedom of bodily autonomy. If we don't have the choice as to what we put into our own bodies…then no other freedoms will matter!

Please download the free PDF of the Nuremberg Code from the British Medical Journal below. Without a doubt, there are violations of human rights (crimes against humanity) being conducted. Do you recognize the violations in every code of this international law?
"Those who fail to learn from history are doomed to repeat it." – Winston Churchill
This and many other free downloadable documents can also be found on our Documents (FREE) page.